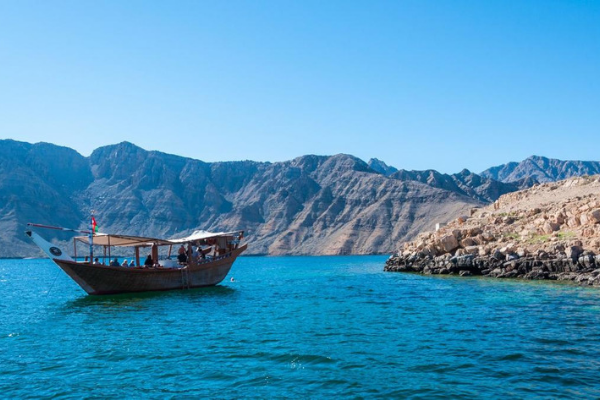 One of the most popular tourist activities in Oman is the Musandam Dibba Dhow Cruise. In the northernmost part of Oman, the Musandam Peninsula features a peaceful and undeveloped area known as Musandam Dibba Tour. A unique combination of natural beauty and cultural experiences, the Musandam region is renowned for its dramatic fjords, pristine waters, and rocky landscapes. During this tour, you will experience an unforgettable day of exploration, relaxation, and immersion in beautiful surroundings.
Pick-Up: You will be picked up from your Dubai accommodation for the Musandam Dibba Tour. You will be taken on a breathtaking drive through the beautiful UAE landscapes, offering stunning views of desert landscapes and urban areas. With the assistance of your tour operator, you will handle immigration and border-crossing formalities upon reaching the UAE-Oman border. Your entry into Oman will be smooth during this process, and you should have all the necessary documentation.
Musandam Dibba Beauty:
Musandam Dibba will welcome you into Oman with breathtaking beauty. This region is characterized by high mountains, bright blue waters, and rocky coastlines, which create a mesmerizing contrast of colors and textures.
Omani Dhow:
The tour features a traditional Omani dhow cruise along the Musandam fjords. A wooden boat provides a unique way to explore the rugged coastline and peaceful waters of the rugged coastline. Enjoy the gentle air as you sail through the fjords while relaxing on comfortable cushions.
Dolphins and Scuba Diving:
You will often see playful dolphins swimming in the waters as you sail through the fjords. Seeing these graceful creatures in their natural habitat adds an extra layer of wonder to your journey when you witness them in their natural habitat. In Musandam Dibba, you can dive and swim in crystal-clear waters. Explore a vibrant underwater world teeming with marine life by diving into the inviting waters. There is usually scuba diving equipment provided so you can explore the underwater ecosystem and encounter a variety of fish.
Delicious Food:
Take advantage of the dhow's freshly prepared buffet lunch. Enjoy local and international dishes while enjoying the calm surroundings and socializing with other travelers.
Beaches and Handcraft Market:
It is common to include a visit to one of Musandam Dibba's white sand beaches. The soft sands are perfect for relaxing, taking a cool swim, or simply taking in the area's natural beauty. Relax and enjoy this peaceful environment as you connect with nature. Your tour package includes a visit to Musandam Dibba's handicraft markets. Visit local artisans, learn about Omani culture and craftsmanship, and explore traditional items.
Package Inclusion:
Pick up from your Hotel or various locations in Dubai
Full day Musandam Dhow cruise departing from Dibba harbor
Snorkeling & dolphin watching
International buffet lunch
Refreshments available on board
Arabic Coffee, Tea & Juice
Sweets and Fresh Fruits
Qualified captains
Fully equipped crews with navigation compass
Life jackets
& more much
Drop off to your Hotel or Residence in Dubai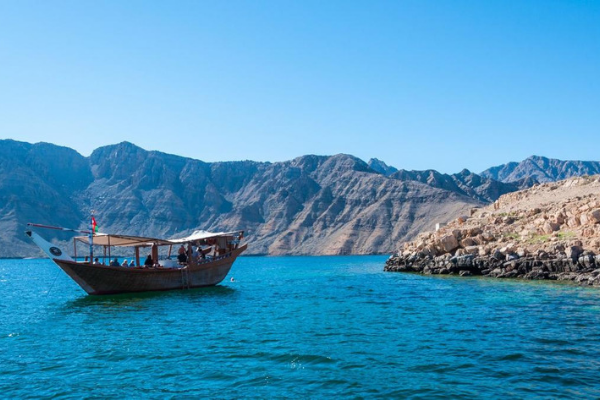 Pickup Time 3:00 to 3:30 Pm
Tour Duration 6 hours
Pick & Drop Included

Pickup Time 3:00 to 3:30 Pm
Tour Duration 6 hours
Pick & Drop Included